Newsroom
Boost Productivity 30% With End-of-Line Automation
END-OF-LINE (EOL) AUTOMATION: Automated technology that packages and prepares a product for delivery at the end of the production line.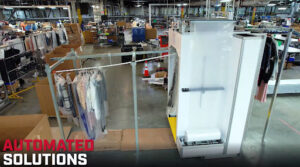 Boxing, wrapping, cushioning… tasks that are repetitive, labor intensive and mundane yet cost your business time and money.
But there is an alternative… end-of-line automation.
That's the route thousands of businesses – both large and small – are taking today.
The benefits end-of-line automation will bring to your business are many…
Bottlenecks Eradicated
A smooth, continuous process requiring minimal manual labor keeps your production line moving steadily – and your products flowing out the door.
Human Capital Optimized
The majority of manpower saved from unskilled, redundant packaging tasks can be redirected toward money-making projects. If your business is small, end-of-line automation could mean significant savings in labor costs.
Production Times Lowered
The very nature of automation is continual efficiency. No lunch breaks, just focused, accurate work getting done.
Costly Errors Reduced
Accuracy is the byword of technical automation. If it doesn't work correctly, it doesn't get created and applied. Less production downtime and customer returns are two of the most obvious benefits. Overall, the costs saved in the reductions of errors/breakage/clean up is hard to overstate.
Accurate Forecasted Production Costs
Predictable production schedules allow for reported anticipated revenue. No more making financial decisions with uncertainty related to end-of-line production.
Find out if end-of-line automation is the right choice for your business today with a FREE CONSULTATION.  Just submit this form now.
Once you do, we'll be in touch right away.
This could be the smartest move you make for your growing business.
We look forward to speaking with you.